Instructors Course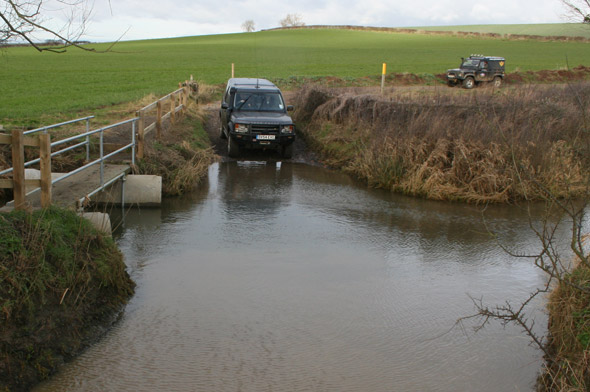 INSTRUCTORS COURSE INFO
Until a few years ago Pro-Trax did not organise instructor's courses because we thought even with our considerable knowledge and training expertise, what gives us the right to do such training? It was only after trying "trained" instructors who had been trained by various other schools and organisations, that we took the decision to undertake such courses.
On the strength of our training methods Land Rover approached Vince Cobley in October 1999 to ask if he would be interested in becoming one of the newly formed Land Rover Experience centre's in the UK, something I am glad to say is now in operation as a separate identity to Pro-Trax. I think this alone tells a lot about our professionalism and expertise as well as the methods we use.
I know our course's help people get a footing in off-road instructing in this country, we certainly have a lot more knowledge and professionalism than most schools around, which of course brings along jealousy etc! The 4×4 training video I made for LRO magazine has sold out at present and many of my competitors and buyers have called to say what an excellent video they think it is.
The instructors course is now held over 4 days and utilises different sites of varying terrain (depending on the clients skills) ensuring the pupil has a good understanding of driving and instructional techniques required on the different types of driving surfaces they or their clients may come across at home and abroad. The terrain includes clay & stone, woodland tracks (some are very rutted and muddy), hilly grassland, sandstone, rock climbs, water crossings, marshland and reclaimed land as well as specifically designed sections which enable various techniques to be demonstrated and taught.
The morning of the first day will be spent in the classroom going through in detail the technical briefing and vehicle perameters as well as basic vehicle preparation and safety requirements.
We will demonstrate various IT techniques, which we have developed over the years giving our instructor ways of explaining a complicated procedure or mechanical component easily. Included in the classroom session is time spent on discussing people skills and how to meet and greet your clients correctly.
The afternoon will be spent on site driving on a gravel, grass and rock surface with ruts, mud and trial type sections, this will help us assess your own driving skills and will help to enhance handling and driving skills. This will help you understand vehicle handling problems and the mistakes pupils make, as well as giving a good insight on techniques used to train and demonstrate the various disciplines used whilst teaching. We will try to go through how easy it is to break differentials and half shafts on this type of terrain. The after- noon session will include wading techniques and how to talk about preparing a vehicle for water
Included in the day will be side slope explanation, failed hill climbs, how to demonstrate torque as opposed to power and the use of the high and low box. We also include a "visual aid" section where we show how to set the vehicle up to demonstrate to clients what you were previously talking about in the classroom.
The second day you will be a client of the Land Rover Experience at Rockingham Castle where you will undertake a full 1 day LANTRA level 1 course with another client, for this you will be certificated by Land Rover Experience and LANTRA. Rockingham Castle site concentrates more on mud, grass banks, and loose ground teaching and driving techniques.
The PM session will be spent de-briefing you on your Awareness course driving and rectifying any problem areas, also that afternoon you will shadow an experience instructor to see how a complete ½ day course is run. Some time will be spent on showing how to use what terrain you have on hand at a venue of your choice to set up a vehicle test and demonstration area..
The Third day you will once again be a "paying" client of the Land Rover Experience at Rockingham Castle where you will undertake a full 1-day level 2 course, and day 1 of the 2 day LANTRA Professional User course with another client, for this once again you will be certificated by Land Rover Experience and .
At the end of the level 2 course we will then move onto the various types of recovery techniques used, from Hi-Lift jacks through to Tirfor winches and onto vehicle mounted winches (subject to change should we feel the client require further driving tuition). We will also demonstrate and discuss various recovery techniques you may need to pass on to potential clients.
Overnight you will be given the instructors briefing pack (which you get to keep) and on the morning of the 4th day it will be a role reversal with you playing the part of an instructor with one of my instructors or a client acting as your pupil and you will undertake a ½ day off road driving course instructor exam on which you will be accessed.
The afternoon of day 4 is spent going through anything we or you think you are weak on, we will discuss advanced techniques and the convoy driving procedure. This will be followed by a short question and answer session a de-brief and presentation of certificates and training aids. Day 4 will also be Day 2 of the LANTRA Professional User course
The total cost of this package with graded certificates and briefing packs given to each pupil, will be £1550 + vat.(this includes your course certification LANTRA certificates) This would include use of one of our vehicles and lunch on each day, a complete training folder at the end of the course is also included. Please note that we pay Land Rover Experience and they pay LANTRA for you to undertake the 2 courses mentioned. We can arrange B&B locally or in house at approx. £34 per night.
I do hope this is of interest to you but should you have any questions or require further information please do not hesitate to contact me. As I mentioned 2013 will be a busy year for Pro-Trax and Off-Road Masters who operate the Land Rover Experience centre, east of England. We can not guarantee full time employment and do not offer it but the chance of part time work with us is very high if not from us then from one of many off-road schools starting up all over the country.
Please note this course does not pass you off as a Land Rover instructor or LANTRA instructor, but put you well on the way towards it. we put you through and certificates on 3 course's with them, this is to show you the type of professionalism required to be an instructor in the 4×4 industry.
The Pro-Trax course is not certified by any agency (except LANTRA 4×4 & Professional User ) ) but we firmly believe the course gives you a good understanding of the techniques and methods required which should help to set you on the correct track, after all Pro-Trax is one of the oldest 4×4 training companies in the UK with experience and training second to none!