If you are looking for an event for your work force that is fun yet promotes team co-operation and combined effort in a friendly competitive situation, we have a variety of team building exercises which will prove ideal, for example:
The tasks can range from orienteering tests, swamp walking, minefields, or step up a gear- supply each team with a purpose equipped 4×4 and set them off on a series of challenges. These can include the aforementioned as well as ones that require more planning, initiative, communication and ingenuity. Tasks like bridge building (to get a Quad Bike across a small ravine!) or raft building because the extra fuel just happens to be on that island in the middle of the lake.
Or for a serious challenge we have them erect an aerial runway flying high above the ground and through the trees….!
We have fully mobile equipment with stepping stones, minefields etc. which can be set up at a venue of your choice.
We can also arrange to run a programme of Outdoor Management Development/Team Building in conjunction with a specialist training company, who have in the past worked with such companies such as Rover Group, Ford, Canon, A,T&T, Siemens, Pedigree Pet foods and Motorola to name but a few.
TEAMBUILD SCENARIO
ITINERARY
Depending on numbers the group would be divided into small teams of 3-5 people, each group would have a team leader and if required a fully equipped 4×4 vehicle (the use of vehicles is an additional charge) i.e.. winches, snorkels, recovery kit, satellite navigation, maps etc. to transport them to tasks further afield. If however the event needed to be kept to a small area or to a low budget the teams would orienteer on foot between the different tasks, thus keeping the event flowing and enabling us to get the most out of a small area or a group with little time.
Every 40-50 minutes the teams will change over to a different task so that at the end of the day each team will have completed every task. We normally theme each event so that ultimately there is a final objective which enables the teams to pool their resources and the equipment which they have retrieved during the day to overcome the final task.
One of the formats we use is that the teams become a search & rescue unit operating at first as individual teams. During the day the teams have to search for clues and tasks, which contain items or information they can use later. The theme can be based around the company's activities to add more reality to the event. At the end of all the tasks in the afternoon the teams meet and all of the various equipment and information that each team has collected will be utilised to overcome the final mission. This is normally an aerial recovery where an aerial runway is erected over a quarry and 1-3 people are lowered to the bottom to recover the lost/stolen or kidnapped person/item, while this is happening the remaining team members are building a rocket to launch into space a microchip which requires altitude to neutralise it!
A road book will be issued to each team with details of routes, time schedules, equipment and tasks to be completed. There will be a briefing session to start the day this will cover safety and the days activities.
Through out the day there will be 4-6 special task sessions at different locations around the venue, to get to some of these areas the teams will encounter very severe off-road driving conditions!IF VEHICLES ARE USED, IF NOT THEN IT IS RAMBLING PRACTICE!). The tasks will be designed to bring out teamwork, planning, initiative, communication, leadership skills, commitment, self-belief, integrity and most of all fun and safety. Each hour the teams will change over to a different task so that at the end of the day each team will have completed every task.
MINEFIELD
There is a small area with a boundary fence and one entrance. Inside there are various objects the team need, but they are protected by scores of trip wires and booby traps some at ground level others a few feet off of the ground and others upto 3 or 4 feet off of the ground. One team member is blindfolded at a time and sent into the minefield to recover the equipment directed by the other team members, the problem is that no talking is allowed so the team must devise a communication system using the children's musical instruments provided.
BRIDGE BUILDING
A previous team had to leave a quad bike at an electric fence because they could not carry it over; your task is to use the poles, rope and planks provided to get the quad, without using the engine power! Off the ground and across the electric fence!
BREECHES BUOY/ AERIAL RESCUE
Pure adrenaline! But totally safe. Each team will erect a steel wire runway from one side of a gully to the other, the distance across is about 25 metres and the distance down about 20metres. The object is to span the quarry with the cable and retrieve objects from the bottom of the quarry, this is done by using a special portable winch to tension the wire, then one team member at a time is fitted with mountaineering harnesses and sent along the wire once above the object they are lowered to the ground to retrieve the object they are then hauled back up and pulled across to the far bank, ready for another intrepid soul.
STEPPING STONES
Stepping stones are elevated platforms approximately 2 feet off of the ground and placed 7-8ft apart, they are used to move over contaminated ground without touching the surrounding terra-firma! Each team is given 2 planks to enable them to cross between the stepping stones, one is 4ft long and the other 5ft long This means that every team member has to be off of the ground at some time! balancing on top the two planks or stepping stones and then manoeuvre around a course, remember Twister, then this is better!!!
RECOVERY OPERATION
A previous team has unfortunately become very badly stuck in quite a precarious situation and in trying to extricate the vehicle have damaged the gearbox rendering it useless. Using the equipment supplied and what ever the teams have found on route the task is to recover the stranded vehicle to a safe area with out the assistance of the gearbox. But be warned. However once again we throw a spanner in the works, a straight pull is to easy so you are going to have to use pulley blocks to turn through obstacles.
SWAMP WALKING
This is a method to cross over small areas of mined or contaminated ground, swamp walking is each team being given two large 4-5 man skies, and with all team members on board they have to travel along a pre-marked out route !!. Sounds easy! But with an obstacle course to contend with and also with any person who puts their foot down being faced the opposite direction this is one task that is more difficult than it sounds.
TIN CAN ALLEY
With an overhead gantry, one carabena, one pulley, 4 ropes and a grappling hook!! four blindfolded members of the team have to be guided by a fifth member to lower the grappling hook and pick up the tin cans?!! sound easy!!!! after each attempt the team rotates round by one person making sure that teamwork, communication and trust are brought to the fore.
SPIDERS WEB
High above the ground are electrified cables with various size gaps at irregular intervals, your task is to get the whole team from one side of the web to the other without touching the cables. All you have to assist you are a few poles, lengths of rope and a small plank.
ORIENTEERING
This can be on foot or by vehicle depending on time allowed, each team is given a list of items and there locations but each location is given in grid squares, cryptic clues or compass bearings. The teams have to gather as many clues as they can in the time allowed the clues are scored depending on the difficulty level required to obtain them.
NUCLEAR HAZARD
Within a marked out area lies a volatile container you are only allowed to move it to the neutralising agent situated 15ft away from within the 4 marked out areas. With 50ft of rope, wood, poles and your own initiative you have to transport ht container over the ground and into the neutralising agent without touching the surrounding ground or coming within 7ft of the container!
BLIND DRIVING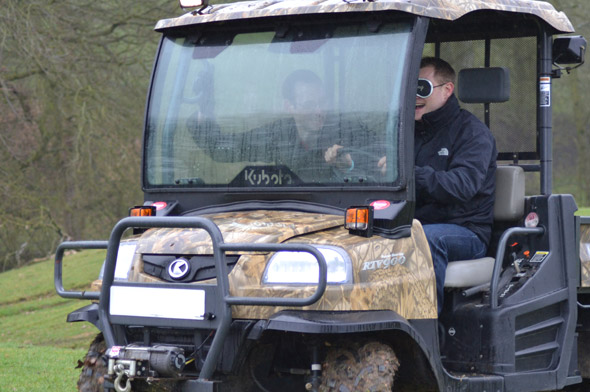 Think you are a good driver? Can work as a team? Communicate well with others? Have excellent directional skills? Calm under pressure? How about all of those when sitting alongside a Blind folded driver in 2 ½ tonne of Land Rover 110 who is being guided by you around an imaginary obstacle and mine field! Care to rethink on the above?
This is a brief explanation of some of the tasks we have available, we try to individualise each event for a particular client. Also available to enhance a team building day are a variety of inflatable tasks!
To add realism to these events we can offer 1-3 day events into the Welsh mountains using the aforementioned itinerary, here the teams have to navigate their own 4×4 vehicle across mountain tracks, through rivers and forests, across swamps and overcome some of the mentioned tasks.